As of January 2012, the EISA 2007 Act went into effect. As of that date, the traditional, and ever-popular 100 watt incandescent light bulbs, could no longer be ordered and stocked by retailers. The law provided for remnant inventories to be sold, but those inventories disappeared quickly and were replaced with new, more efficient light bulbs that use only 72 watts of energy to produce comparable amounts of light. ligh bulb laws
In January of 2013 and 2014 similar changes will eliminate 75 watt incandescent bulbs and then 40 and 60 watt incandescent bulbs, respectively. Some other types of lights will also be affected including halogen PARs and some linear fluorescent bulbs.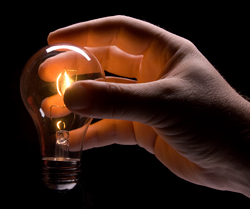 The new laws have brought terms like watts, lumens, CFLs and LEDs to the forefront. We know that all this new terminology can be confusing, and that what our customers really want is an adequate amount of light for their specific areas – from the dining room to the laundry room; from the closet to the shop. At Steadman's Ace Hardware we know how to help you select the right lights for your home. Lights that will ensure that you have the necessary light for the space. Lights that will reduce your use of electricity.
When you need to replace your old light bulbs, ask one of our knowledgeable staff for assistance. They'll ask a couple of questions to determine what's best for your situation, and then direct you to the perfect light bulbs. At Steadman's Ace Hardware – we speak the language of lighting.