Steadman's Ace Hardware of Miles City has all of your plumbing parts, accessories, supplies and tools. Steadman's carries everything for the professional or DIY plumber.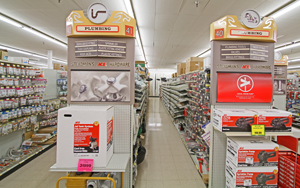 Whether your plumbing job calls for working with iron, copper, PVC or Pex – Steadman's is your one-stop-shop for plumbing tools, equipment and supplies like septic tanks, water tanks and bio diffusers. Watch a video of how a bio diffuser chamber system works. For the DIY plumbers, Steadman's has an experienced staff that will help you pick the right plumbing parts and tools – and even cut and thread your pipe, when needed. Ask Steadman's staff to show you how easy it is to connect water heaters and more using Sharkbite Push-Fit products. Steadman's can also design a custom water sprinkler system to fit your lawn or pasture specifications.

Steadman's has a huge selection of propane and electric heaters that will help keep your house, garage, basement or workshop toasty warm – even in the harsh Montana winters we have in Miles City.
SharkBite is the Push-Fit connection system that's really taking hold. It's the easiest way to join copper, CPVC or PEX pipe in any combination – with no soldering, clamps, unions or glue. Just insert the pipe and the stainless steel teeth bite down and grip tight, while a specially formulated O-ring compresses to create a perfect seal. Disassembly is just as fast using the simple disconnect tool.