Steadman's Ace Hardware in Miles City, Montana has a complete selection of canning supplies year-around. Canning vegetables and fruit from our south eastern Montana gardens is a great way to preserve the fall bounty well into winter – and beyond. download a canning checklistCanning isn't really difficult, especially when you have all the right equipment ready to go.
FREE Vinyl Canning Labels
With the Purchase of Any Canning Tools or Supplies.
Pick yours up at checkout!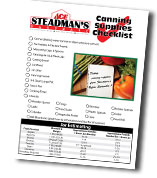 Download and print our Canning Checklist before you start canning this year.
Canning Jars & Lids
Canning Mixes & Additives
Canners, Equipment & Accessories

Grow your own fruits and vegetables or buy them locally at the Farmer's Market; you'll be able to lower your grocery bills, live off the land and eat good nutritious food at the same time. Come into Steadman's and let us help you get started with your canning project.

Canning Jars & Lids
Wide Mouth & Regular Canning Jars and Lids by Ball®. Metric sized canning jars and lids from Leifheit®.
Canning Mixes & Additives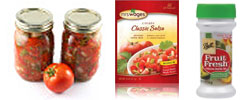 Vinegar, Pectin, Fruit Fresh, Citric Acid, Pickle Crisp, Lime and Pickling Salt, Mrs Wages® Chili Base mix, Pasta Sauce mix, Salsa Mix and Hot Salsa Mix. Ball® brand mixes include Kosher Dill pickle mix and Bread & Butter pickle mix.
Canners, Equipment & Accessories

Sauce Master by Norpro®, Pressure Canners, Steam Canners, canning accessories, jelly and jam strainers, canning funnels, jar lifters and canning racks.
Helpful Canning Season Product – The FoodPod™


the boil/blanch/steam/drain silicone pod
The FoodPod™ is a modern silicone cooking tool designed to save time when boiling, blanching or steaming by conveniently containing, removing and draining foods like eggs, veggies, shellfish and more in one easy-to-use vessel. Simply place foods in the FoodPod™ and put in water to cook. Lift from water, let drain. Remove from FoodPod™. Enjoy!
Some stuff you should know:
Saves time and water when preparing a meal.
Foods are immersed and removed at the same time to ensure even cooking
Keeps foods together for quick and easy removal
1-3/4 quart or 1-2/3 liter capacity
Easily holds up to a dozen large eggs or several heads of broccoli (1-3/4 quart or 1-2/3 liter capacity)
Built-in grip clip allows for convenient removal from water and aids in boil over control
Non-stick silicone protects delicate foods and pot surfaces
Flexible to fit in any size pot for cooking and storing
Made of FDA/EU food-safe silicone and BPA-free nylon
Top rack dishwasher safe