Polishing Glass & Recycling At The Same Time
by Damien Andrews
Clean glass is nice. Polished glass is awesome. And as any car show enthusiast or professional window cleaner will tell you, nothing polishes glass like paper. Paper towels are good, but crumpled newspapers are great!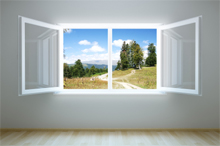 Take a sheet of newspaper and crumple it completely. Open it up and crumple it again into a good working size. Now use your favorite window cleaner and usual method to clean the glass. Finally, use the cleaner sparingly and polish in circles with a piece of crumpled up newspaper.
TIPS: A full sheet of newspaper will usually do 2-3 windows. If you have water spots, try 2 parts white vinegar with 1 part water as a cleaning solution.