Steadman's Ace Hardware of Miles City has the area's most complete line of electric and propane heaters. At Steadman's, you'll find infra-red quartz heaters by Powerheat, as well as propane heaters and portable propane heaters from companies like Mr. Heater and Ace Brand. Come by Steadman's in Miles City for all of your electric heaters, propane heaters and heater accessories.
Powerheat 1500w Walnut Finish
Warms a room up to 1000 s/f
Thermostat automatically controls room temperature
Color coated push button controls on front panel Room temperature display range: 50-97 degree Fahrenheit or 10-36 degree CelsiusPowerheat 1500w
LED display with night time brightness dimmer
IR remote control
Material: Galvanized steel/Poly propylene/wood solids/wood veneers
Uses 6 infrared quartz tubes for heat
Use standard 120V 3 prong grounded outlet
Weight: about 45 lbs
Heat output: 5200 BTU
Rated power: 1500 Watts, 12.5 Amps
3 year manufactures warranty
Ace heaters
Ace Brand Pelonis® Ceramic Heater (HC0120)
Ceramic Heater/Fan
2 heat settings 1000/1500W
Fan only setting
Adjustable thermostat comfortable control
Resettable thermal cutoff fuse built-i
Cool touch housing
Off-white
Pinnacle ProTemp® Kerosene Forced Air
Portable, easy to operate, kerosene forced air heaters create a comfortable environment out of even the most harsh conditions. Products range from the most economical PT-45-KFA, 45,000 BTU model which can heat up to 1,100 sq. feet to the PT-400T-KFA, 400,000 BTU model, with a heating capacity of 10,000 square feet. All Protemp forced air heaters are easy to assemble and come with a manufacturer's limited 1 year warranty.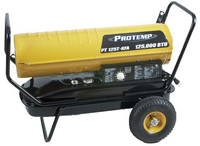 Multi-Fuel Capable
Sure Start Ignition – Heater Fires At –20º
Hinged Housing Lid for Easy Repair Access
Fully Enclosed Motor For Longer Life
Accessory Electrical Outlet
Electronic Diagnostic
Extension Cord Wrap
Built-In Calibrated Air Pressure Guage
Integral Overheat & Flame-Out Safety
Mr. Heater® Tank-Top Heaters Model MH24T(S)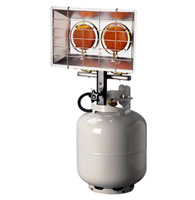 Variable BTU's – 8, 12, 14, 16, 24 and 28,000 BTU/HR
Mr. Heater® Tank-Top Heaters
Adjustable Heat Control – Hi, Med, Lo regulator; Operate one or two burners at a time
Instant Heat – Piezo push-button ignitor (Model MH24TS)
Safe – Heater shuts off automatically with loss of flame
Ready To Use – Mounts directly to a 1-20 lb propane cylinder (not included)
Maximum Heating Time / Hi – Up to 15 hours on 20 lb cylinder
For outdoor use only
EdenPURE® Gen 3 Quartz Infrared Heater (A4136)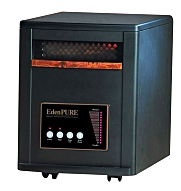 A remarkable new advanced quartz infrared portable heater, the EdenPURE™ GEN3, has the potential to reduce your heating bills. The EdenPURE™ GEN3 may pay for itself in a matter of weeks and then start putting a great deal of extra money in your pocket after that. And that's just the start of the benefits for the new EdenPURE™ GEN3 Quartz Infrared Portable Heater.
The EdenPURE™ GEN3 Model 500 comes in the decorator color of black with burled wood accent and heats a room up to 300 square feet.
Don't let high energy costs get you down. Order your EdenPURE™ GEN3 Quartz Infrared Portable Heater for your home today.
Eden Pur Heater
Six commercial infrared bulbs
Three copper heat exchanges
8 ft. cord – 3 prong grounded
Electronic thermostat
Temperature adjustment
Galvanized steel inside
Poly propylene shell
Washable filter
Remote included
GEN 3
Heats up to 1,000 sq ft.
1 year warranty
UL listing no. E307136
Infrared heat does not burn oxygen or reduce humidity
Heats room evenly
PurATron Energy-Saving Heater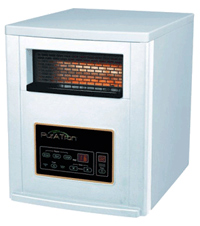 PurATron, a name that has long been trusted with quality air-purification—is proud to introduce its first line of infrared energy-saving heaters. The PurATron heater produces UV light, which works with the PCO (or Photo Catalyst Oxidation) filter to kill bacteria. In addition to the energy-saving heat the PurATron heater can provide, it can also reduce bacteria and unwanted smells thanks to the PCO filter.
3 Year Manufactures Warranty
3 Power Settings: Sm/Med/Lg Areas
IR Remote Control
Thermostat Range: 60 – 90 degrees F
Air Purification: Photo Catalyst Oxidation (PCO) Technology
New Smart Stone CICC Fiber Heating Plate System 60,000 Usage Hours
Auto Shut-Off: Heat can be set to auto shut off in up to 12 hours
Heats Up To 1000 Square Feet
Safety: Overheat safety shut-down and tip-over safety switch
Filter Can Be Cleaned With Warm Water or a Vacuum Once Removed from Unit
Weight: Approximately 22 lbs.
Modular Design: Galvanized Steel / Poly propylene Insides
Uses Conventional 110v 3 Prong Grounded Outlet
Height: 16 3/4″ Width: 13″ Depth: 15.5″
Approx. 6′ Long Electrical Cord, 14 Gauge
Rated At 2000, 3500 & 6000 BTU
Watts: 600-1500