This is a great way to effectively secure a bolt by ensuring that the nut does not vibrate or slip loose, thus preventing the bolt from properly performing its intended service.
(Please refer to DIAGRAM A)
Step 1 – install the bolt where you want it.
Step 2 – tighten the nut to the desired position. It does not have to be tightened down; it can be screwed on to any point on the bolt's threads.
Step 3 – install the locking nut and turn it until it meets the first nut. Hold the first nut with a wrench or pliers and, using wrench this time, tighten the locking nut to the first nut. It does not require much torque at all to be totally effective.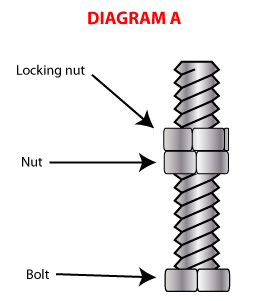 The above method allows you to easily adjust the bolt and both nuts anytime in the future. This is especially useful when the bolt's service requires periodic adjustments.
Other Methods
You can purchase locking nuts that are the proper size for the bolt. These nuts are designed to remain tight, once the full body of the nut is in contact with the bolt. Only a single locking nut is required for adequate service.
You can purchase thread locking liquids. Simply put a drop of liquid onto the bolt's threads and secure the nut. When the thread locker is dry, the nut will be secure. NOTE: thread locking liquids come in different strengths. Some thread locking liquids are so powerful that heat or machinery will be required to remove the nut once the thread locker has dried. Ask a Steadman's staff member for help selecting the appropriate thread locker for your job.