If you're not a smoker, chances are that you are bothered not only by the smoke from cigarettes and cigars, but by the remnant odors of these smokes as well. Even smokers can be unpleasantly affected by smoke odors that have accumulated over time. Smaller rooms with lots of porous materials, such as can be found in curtains, carpets and furniture coverings can harbor overwhelming smoke odors.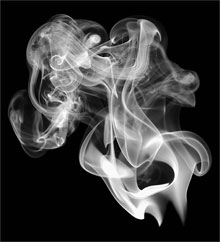 Getting rid of smoke odors that are the result of a short term exposure to cigarette or cigar smoke is easy, inexpensive and pretty quick. All you need is a gallon of white vinegar and some small bowls or plates. Here's what to do:
Place the small bowls and/or plates (containers) around the room with the smoke odors.
Pour a small amount of the vinegar into each of the containers.
Close off the room for 24 hours.
Revisit the room. If the odors are gone, remove the containers. If the odors are not yet completely gone, make sure each container has some vinegar in it and repeat step 3.
If a smoker spent the weekend in a room of your house, the above process will likely require 24-48 hours of treatment to clear that room. This process can be used to remove smoke odors from vehicles or an entire house. You'll need lots of containers for a house, and you can't close it off, but over a few days it will indeed work so long as the containers are distributed throughout the house and always have vinegar in them.
If you've had a smoker in your vehicle, and want to get rid of the odors, follow the steps above HOWEVER do not let your vehicle stand in direct sunlight while the vinegar is being used. Also, if the heater, air conditioner or vent fan has been running while smoke was in the vehicle, the odors are trapped in that system. Hence, you will need to run the system while the exposed vinegar is inside the vehicle. This can be accomplished by wetting a sponge with the vinegar, placing it inside of an appropriate, open container and leaving it in the vehicle while the vehicle is in use. Clearing smoke odors out of a vehicle's vent system can take several days – but it will ultimately work!
You can also put some white vinegar into a spray bottle and keep it handy for rapid odor removal and spot cleaning. Be sure you won't harm anything or anyone when you spray the vinegar into the air for odor control! The spray can be used to help speed up cleaning out smoke odors from vehicle's ventilation system. Just use a VERY light mist!
Basic white or distilled vinegar has been around for thousands of years and has countless uses including: as a coffee pot/system cleaner; as a degreaser; as a window cleaner; to remove hard water stains; to soothe sunburned areas; as a deodorant; to clean corroded battery terminals; and to clean and/or rinse hair.
Getting rid of smoke odors that have accumulated over many years requires a comprehensive approach that may well include painting walls and ceilings, cleaning carpets, furniture and curtains and replacing lamp shades.