Thermal Zones
Whether your home has a central heating and cooling system or not, it does have thermal zones. Thermal zones are specific areas of the home that have noticeably higher or lower temperatures than the rest of the home. Thermal zones are caused by numerous factors including drafts, windows, exposure and position relative to the heating and cooling sources.
Thermal zones are most often hotter in the summer time and colder in the winter time. When a thermal zone is in a room that is rarely used, it customarily presents little or no problem for the family. When a thermal zone is in a room that is frequently used, it can make people uncomfortable.
See the diagram below for an example of how thermal zones are created by homes with central heating and air conditioning units installed.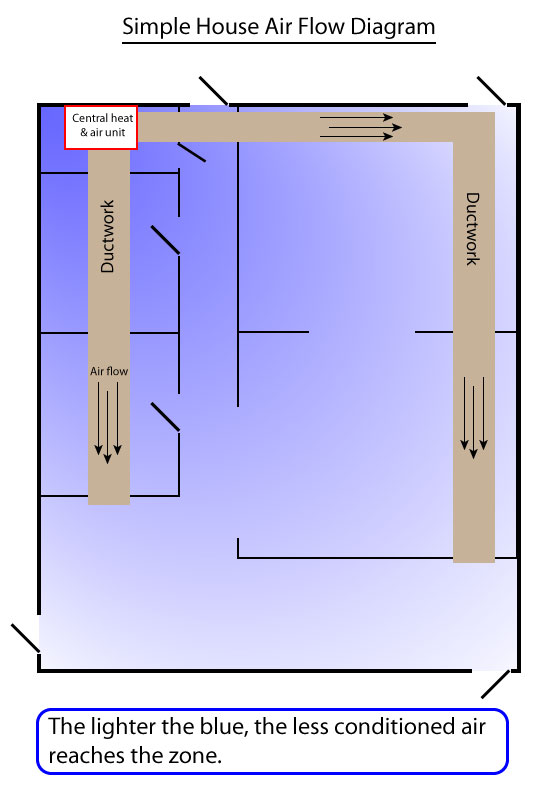 Correcting Temperatures in Thermal Zones
If you have a central heating and cooling system, you can sometimes lessen the temperature variation of a thermal zone by adjusting vents throughout the house: partially closing some vents and opening the vents in the thermal zone. The proper balance of vent openings and closings takes trial and error to achieve, and is almost invariably different in winter and summer. Take care not to create new thermal zones while fixing an existing one.
Floor fans can also be effective solutions for thermal zones. Basically, a fan (or fans) should be placed to direct conditioned (heated or cooled) air into the thermal zone. The best successes are achieved by using two or more small fans. This solution does have the drawback of putting fans in what are usually hallways, thus impeding family traffic.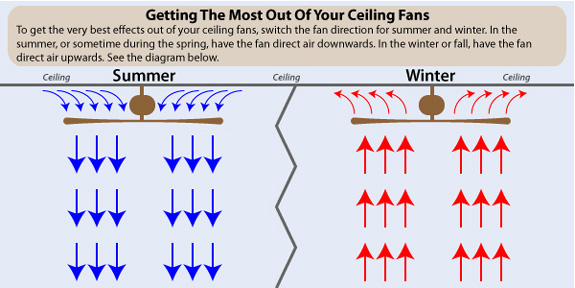 Ceiling fans are frequently an effective solution for thermal zones. Always select a ceiling fan that allows you to switch between moving air upwards towards the ceiling, and downwards towards the floor. With few exceptions, direct air upwards in the winter and downwards in the summer.
The best way to deal with thermal zones is by augmenting the existing heating and cooling system(s). A room air conditioner for summer and a small heater for winter. Since thermal zones tend to be the same room(s) in both summer and winter, consider a room unit that has both cooling and heating capabilities.
Room air conditioning (heating and cooling) options
Steadman's offers Comfort-Aire room air conditioning systems. Comfort-Aire, a well respected manufacturer, offers the industry's broadest range of window air conditioners. Below are some of the options available with Comfort-Aire products:
Units that use 110 volt – thus allowing them to be plugged into standard household receptacles
Window units and through-the-wall units
Power ranges from 5,000 to 30,000 BTUH
Units which also have electric heat
Units with heart pumps
Energy Star units
Portable cooling units in power ranges from 7,000 to 12,000 BTUH
Steadman's has the solutions
Whether you want to use floor fans, ceiling fans, space heaters or room air conditioning units to eliminate thermal zones and make your home more comfortable, Steadman's has what you need. We also carry complete lines of wiring, receptacles, extension cords and tools for do-it-yourselfers and contractors. Stop by Steadman's today, and have a more comfortable, thermal zone-free home tomorrow.
To learn more about Comfort-Aire products visit their website at: http://www.comfort-aire.com/