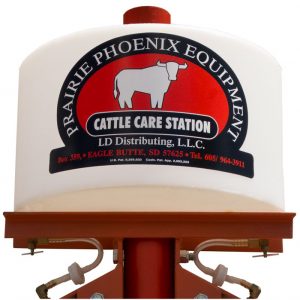 The Cattle Care Station lets you switch insecticides to avoid resistant flies – Plus it's built to accommodate cattle of all sizes!
The ropes are 30% larger for longer life, and allow better flexibility to conform to the animal for more complete coverage.
The patented INSECTICIDE SAVER VALVE was designed to meter the insecticide onto the rope, virtually eliminating waste… SAVES UP TO 60%
Built tough to take the abuse you know they'll get. Designed simply for low maintenance. Heavy, thick wall 2 7/8″ steel pipe. All brackets are 1/4″ thick steel.
The 6 1/2 gallon tank lets you see chemical level at a glance. It's manufactured of translucent, high density polyethylene with special UV inhibitors, impact modifiers and rationally molded one-piece seamless construction. Reinforced valve outlets. Will not rust or corrode.
The Drovers Journal reports:
Left uncontrolled, horn flies will reduce weaning weights over 4% which equals a $30 loss on each 450 lb. calf.
Field tests by the British Columbia Ministry of Agriculture, August 1994
The use of Prairie Phoenix Cattle Backrubber reduced horn fly infestation 92%.