Lawn Mower Maintenance
The lawn mower was invented in 1827 by a man named Edwin Budding, who had his idea patented in 1830. In 1890 a steam engine was added to the lawn mower – thus replacing thereel lawn mower need for human or animal power. A patent was issued for the steam powered lawn mower in 1893. Then, in 1902 the first gas powered lawn mower was made available to the public. At the time, not many people were concerned with lawn care, so manufacturing of the combustion engine lawn mower didn't begin until 1919.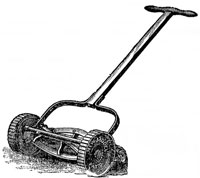 Today's internal combustion engine-powered lawn mowers are amazingly light and powerful – and offer features that were never dreamed of in the early 1900's. Today, lawn mower shoppers can find push lawn mowers that are self-propelled; electric start riding lawn mowers; hydrostatic drive lawn mowers and too many more to mention.
new lawn mowers at Steaman's
Today's lawn mowers have such powerful engines that spin the cutting blade(s) at such high speeds that it is easy to forget that lawn mowers need regular maintenance to perform optimally and ensure maximum service life. A well maintained lawn mower will not only start easier and last longer, it will do a better job of cutting the grass.
Following is a preventive maintenance list that applies to all gas powered lawn mowers. Your lawn mower might need additional items added to the list, but this list should give you a good start.
Lawn Mower Preventive Maintenance List
Maintenance Item #1 – the air cleaner. Service your lawn mower's air cleaner regularly. We all know how dusty it gets here in southeastern Montana – and lots of that dust ends up trapped in lawn mower air cleaners. Service only takes a couple of minutes.
Maintenance Item #2 – the oil. Check your oil regularly to ensure that there is plenty in the reservoir. At least once a year, change the oil – even if you don't use your lawn mower very often. Oil is the life blood of your engine. Oil goes bad. Make sure your lawn mower has good oil.
Maintenance Item #3 – the deck. The deck houses the blade. Grass cuttings stick to the insides of the deck. This happens even when you only cut dry grass. The moisture from the grass itself is enough to allow it to stick to the inside of the deck. The more grass that builds up on the inside of the deck, the less "lift" the lawn mower blade can provide as it cuts, thus giving an uneven cut – often with lots of blades of grass not being cut at all. Use a putty knife to scrape grass from inside the deck.
Maintenance Item #4 – the blade. Lawn mower blades need to be sharpened. How often sharpening is required depends on several factors including how much the lawn mower is used, whether or not the blade strikes lots of hard objects such as rocks, and so forth. You can sharpen your own lawn mower blade using a metal file – but be SURE to use a lawn mower blade balance to make sure the blade's weight is still equally distributed from side-to-side. A badly balanced lawn mower blade is not only bad for the machine and the grass, it's potentially dangerous. Also, check the blade occasionally to make sure nothing has wrapped around the spindle, such as string or wire.
Maintenance Item #5 – the wheels. Keep the axles free of debris. Also, apply a bit of light oil on axles as needed. This will keep your wheels turning easily and reduce friction/stress.
Maintenance Item #6 – the spark plug. Fouled or worn out spark plugs likely account for the majority of engine starting difficulties. Remove the spark plug and inspect it. If it is covered with black soot, the mixture is too rich. If it appears burned and brown, the mixture is too lean. Adjust the fuel intake as necessary. Clean spark plugs with a wire brush and fine emery cloth: fold the emery cloth over and slide it between the contacts to get them clean. Blow the debris off the plug when it is clean. Check the gap and reinstall. Lawn mower spark plugs should be replaced at least once annually.
Take good care of your lawn mower and it will take good care of your lawn for many, many years.