It really doesn't matter what your wood project is, a good table saw will make the work easier and the results professional. Professionals know the value of a good table saw, and that's why the table saw is one of the first tools out of the truck at construction sites. Advanced do-it-yourselfers know that whether they are building a dog house or a bird house, a new deck, custom garage shelving or paneling the basement – the sawing chores will be handled easily and perfectly with a good table saw.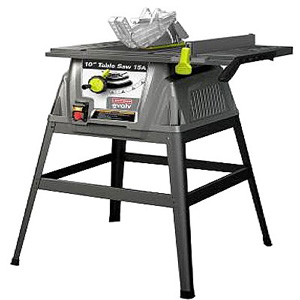 The Craftsman 10″ table saw allows you to make precision cuts – and to repeat those exact cuts over and over whenever it's desirable. This is incredibly useful in almost every woodworking project. If you're paneling a room, for example, you can cut precisely 3¼" off the 8′ edge of a piece of paneling, thus allowing you to get a perfect fit to the adjoining panel in either the corner or on the wall. A table saw eliminates the 'blade notching' that so often ruins a perfect edge-to-edge fit when using a circular saw. And of course, it's almost impossible to hold a circular saw on a perfectly straight line over a cutting distance of 8′.
Being able to reproduce long cuts precisely is a great asset in the workshop or on the jobsite. Make 2″x2″s out of 2″x4″s to save money and reduce project weight without sacrificing strength. Cut shingles or siding out of plywood for bird houses, dog houses, deck trim and more. Cut plywood into matching strips to make perfect boxes every time. The practical uses for a table saw are all but endless.
The Craftsman "Evolv" 10″ table saw comes with a powerful 15 AMP motor, a 24-tooth carbide tipped blade and steel tabletop for making smooth, accurate cuts. The heavy duty steel stand construction with non-skid rubber feet adds stability and comfort to the work station. Rack and pinion blade height adjustments are quick and easy. Tool has adjustable miter gauge to make cross cuts accurate and easy with tool free adjustments to achieve desired miter angle. Added features include On-board push stick storage and large on/off switch for easy accessibility.
Includes: "Evolv" Table saw, 24T Carbide Tipped Blade, Stand, Blade Wrenches, Hex Keys, Anti-kickback Pawls, Blade Guard Assembly, Push Stick, Miter Gauge, Rip Fence and Operator's Manual
Powerful 15 amp motor suitable for a range of tough materials
Adjustable miter gauge for guiding material through cross cuts at desired miter angle
Advanced modular guarding system
For versatility and exceptional blade coverage
Upper guarding assembly installs via simple latch action
Anti-kickback pawls assemble with the push of a button
Spreader easily repositions to lower riving knife position via tool free internal cam lever (lower riving knife position for non-thru cuts only)
Quick release rip fence included for guiding material during rip cuts
Steel table top provides a large 25″x17″ work surface to support the material
Table mounted push stick for quick access and high visibility
Heavy duty steel stand provides a comfortable and sturdy work height
Large on/off switch for easy access and high visibility
Rack and pinion height adjustment smoothly elevates or descends blade to achieve desired blade height
Weight: 50 lbs
Setup: Some Assembly Required
Warranty: Craftsman One Year Limited
At around $150*, this Craftsman "Evolv" 10″ table saw is ideal for professionals and do-it-yourselfers. Stop by Steadman's and check out the quality of this fine craftsman tool.
*This price is subject to change without update or notice.