Automatic Irrigation Systems
Manually watering your grasses, shrubs, gardens, trees and expensive seasonal ornamentals frequently leads to overwatering. Overwatering is destructive to landscaping, and as water costs rise, it becomes an increasingly expensive problem. Grasses brown out and ornamentals die. Repairing these problems is costly.
Under watering is customarily even more destructive than overwatering. A common occurrence is for a family to return from a vacation only to find that their beautiful landscaping has turned into an eyesore that will take lots of time and money to correct. Sometimes, especially during periods of high temperatures and limited or no rainfall, missing even one day of watering can be disastrous for landscaping.
Finally, when manually watering, it's impossible to determine the precise amount of water an area requires to flourish. And even if you could determine that the grass on the north side of the house required 9½ minutes, while the shrubs on the south side need 4 minutes and the flowers bordering the sidewalk need 7 minutes – who can afford the time to make such precision water deliveries regularly? And of course some areas need watering daily, while others only need watering every other day or every third day.
Automatic irrigation systems make calculating the optimum amount of water required to maximize growth quite simple, and very precise. Making adjustments to the amount of water delivered, or the time when the water is delivered, is a snap. Also, the water is delivered to the plant(s) in the best way possible: ground irrigation for trees and shrubs, sprinklers for lawns and so forth.
Do-It-Yourselfers Rejoice
Automatic irrigation systems have never been easier to install. Everything from the automatic timers to the various water delivery heads have been designed for efficiency and ease of installation. Even relatively complex systems can be installed in most yards in a couple of weekends.
To start the process of installing your own automatic irrigation system, you'll want to diagram your yard. You can do this with a basic computer drawing program or on a sheet of paper. Graph paper is excellent for this task.
Start your drawing by making the shape of your yard, then place your house and any other buildings into the drawing. Now add trees, shrubs, ornamentals and lawn areas. Make note of the water main and the spot where you'll want to locate the timer. Timers can be mounted indoors or outdoors. Finally, mark measurements on the drawing. The measurements should be accurate, but do not need to be precise to the inch. (See the computer-generated diagram below. This diagram is much more detailed than is required.)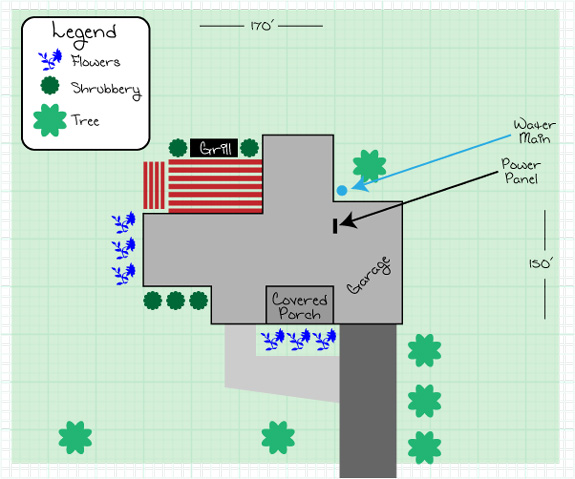 Once your drawing is completed, visit your local automatic irrigation system dealer. Steadman's carries everything you'll need, and our experienced staff will help you decide the exact parts you'll need to do the job right. You can get a quick project quote from Steadman's on your irrigation system at this link. Steadman's carries Rainbird, Toro and Orbit. Steadman's also rents trenchers for installation of systems and blowers for annual system clearing before winter.
Click here to download a PDF that shows everything you need to know to plan and install a Toro automatic irrigation system.
Click here to download a PDF that shows everything you need to know to plan and install an Orbit automatic irrigation system.